Globally the Peerpoint team is around 40 people. We interviewed some members of the team about what they do and what it means to be part of the Peerpoint business. The individuals to feature here are from our consultant management and operations teams.

Aditi Misra, Consultant Development Manager, UK
Aditi is part of our consultant management team and is based in London.
"The crux of my varied role is supporting our consultants to get the most out of their consultancy career. This ranges from working closely with them to understand their skill set and needs, supporting them with their consultancy CV, to collaborating with our client development team to match them with suitable roles. I also provide coaching support on topics such as developing a consultant mindset and strategic career planning.

By far, the most rewarding part of my role is getting to know interesting people, building trusted working relationships with them and helping them succeed in a career that affords them more control, variety and balance. I trained at Linklaters and worked there as a corporate lawyer before moving in-house and then changing direction to become a legal careers adviser. This has helped me develop a good understanding of the industry and our consultants' career trajectories and enables me to provide support that is based on experience. It is also very satisfying to be a part of an organisation that is leading the way in changing the face of the legal industry."
Contact Aditi here.

Donna Titley, Talent Development Manager, APAC
Donna is part of our Asia Pacific team and is based in Hong Kong.
"My role is two-fold; to work with each of our consultants on an individual basis to proactively build their careers and enjoy successful client placements. I also support the community of consultants across the region through the events, information, and training that make up our consultant development programme.
I'm a people person and I really enjoy working collaboratively with consultants to find out what they really want from their careers. There are a lot of assumptions about what a legal career is and what success looks like. I believe every consultant is different and brings something unique to the table, I work with them to find out what that is and use it to help them build their own successful consulting portfolio.
Covid19 has challenged us to all live and work differently. Personally, working alongside my two daughters home-schooling has been particularly demanding, but I'm hopeful that all of our experiences will change and evolve the conversation on 'work-life balance' and lead to a whole range of new personalised working solutions."
Contact Donna here.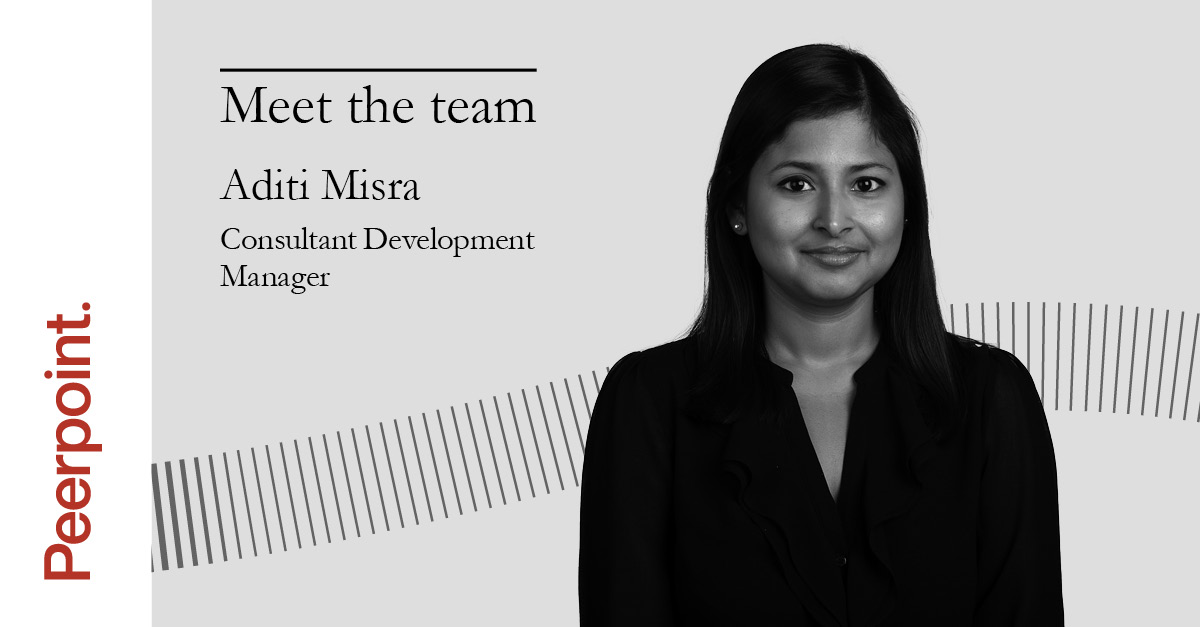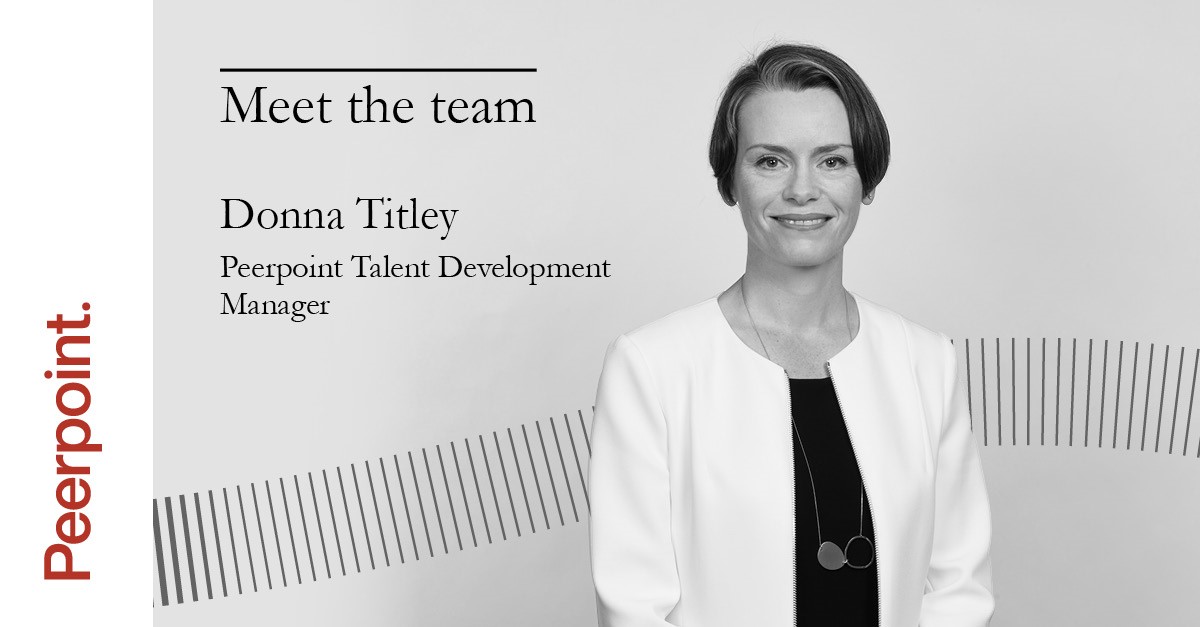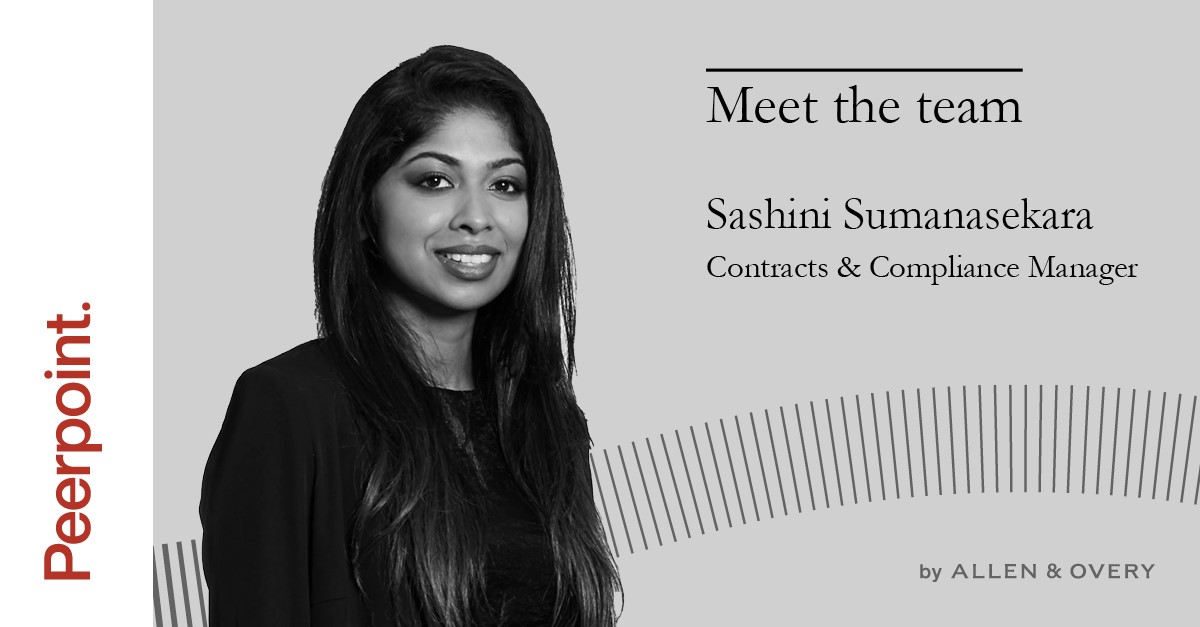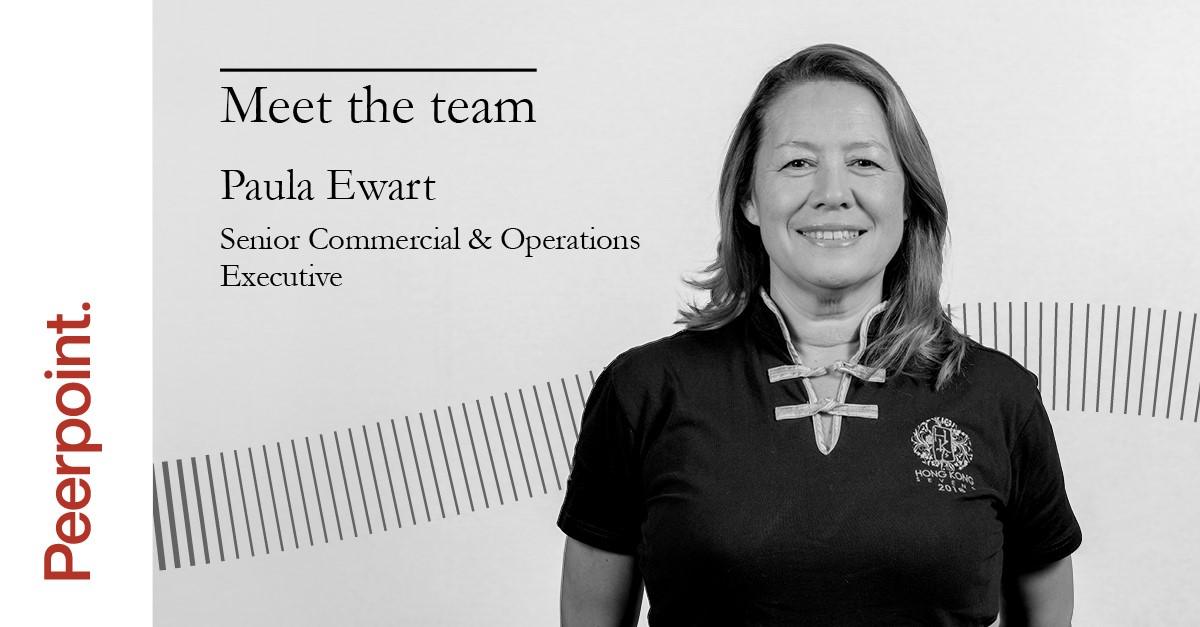 Sashini Sumanasekara, Contracts and Compliance Manager, UK
Sashini is part of our global operations team and is based in London.
"My role is to manage contractual arrangements, ensure regulatory and business compliance and maximise efficiencies in our operations while meeting the demand for growth. No day is the same, with each offering a mix of queries across the operational and contractual spectrum. These can be cross-border placements involving tax affairs, multi-jurisdictional contractual queries, business processes, or financial matters.
I joined Peerpoint nearly five years ago and have had a truly fulfilling journey seeing it grow. From being a new business with bold ambitions, to seeing all the great ideas on our proposition come into fruition, (with my own small part to play), has made for a rewarding experience. Peerpoint strives to offer creative solutions, even when it seems impossible, to help our consultants' careers and evolving client needs.
Amongst working with a lovely team, overcoming such challenges in a fast-growing business, whether they be contractual or operational, and presenting a viable solution, is what I enjoy the most!"
Contact Sashini here.

Paula Ewart, Senior Commercial and Operations Executive, APAC
Paula is part of our global operations team and is based in Hong Kong.
"I support a variety of business areas by managing the processes for welcoming consultants to our panel, assisting both client and consultants' journeys to a successful placement. Peerpoint consultants are talented and unique individuals so we tailor the paperwork, procedures and requirements to make joining the panel, or starting a new assignment with a client as smooth and seamless as possible.
I love being part of a dynamic, solutions orientated team who are able to think out of the box and create opportunities for consultants and clients alike. I gain a real sense of purpose when working alongside the team, helping consultants to take on challenges that they may never have considered. In these current challenging times, my overwhelming and enduring memory will be the care and community that has grown throughout the worldwide Peerpoint team. We have shared virtual birthdays, baby showers, catch-ups, drinks and welcomed new team members, supporting one and other, as well as our consultants and clients throughout."
Contact Paula here.